FREE Novena:
Divine Mercy Novena begins Good Friday April 3,2015. Need a DAILY email to remind you to pray? Divine Mercy Novena reminders are FREE.
Just CLICK HERE to sign up.
FREE APP:
Pray the Divine Mercy Chaplet every day with Fr. Michael Gaitley. Go to the app store on your smart phone or ipad and search "divine mercy." This app is from the Marians of the Immaculate Conception.
CDs & MP3s:
The Saving Power of Divine Mercy

by Fr. Jason Brooks LC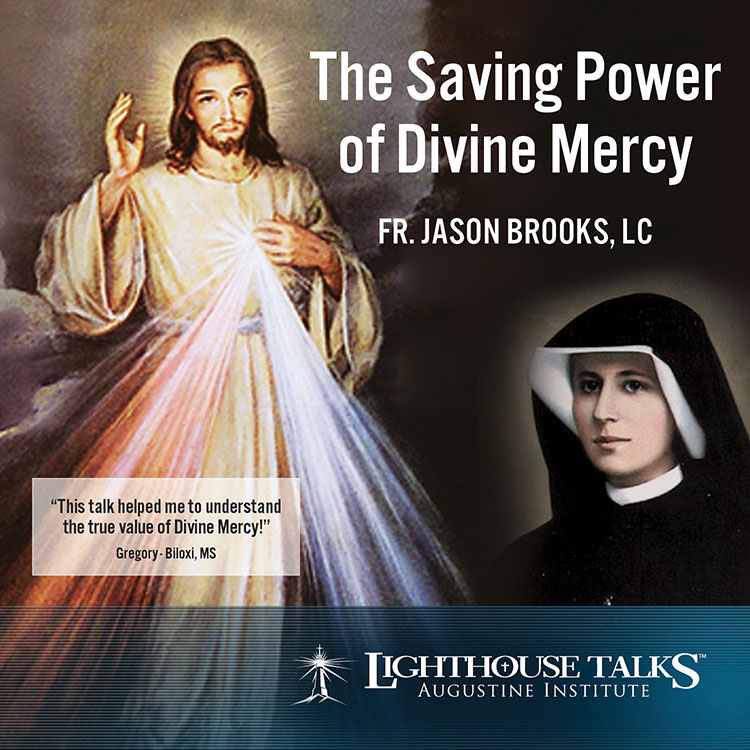 Pope John Paul II said that Divine Mercy is THE message for the third millennium and God's gift to our time. There is nothing that mankind needs more than Christ's Divine Mercy. To help us avail ourselves of that loving mercy, Fr. Brooks focuses on what we know of God's Mercy, our response to His Love, how we can become merciful to others, and how to become apostles of mercy. Bonus: At the end of this presentation, the Divine Mercy chaplet is led by Fr. Francis Peffley, Mark Forrest - an Irish tenor, and Muriel Forrest.
CLICK HERE TO HEAR A PREVIEW
CLICK HERE TO ORDER MP3 or CD
The Second Greatest Story Ever Told CD

by Fr. Michael Gaitley
(Available in English, Spanish or Polish)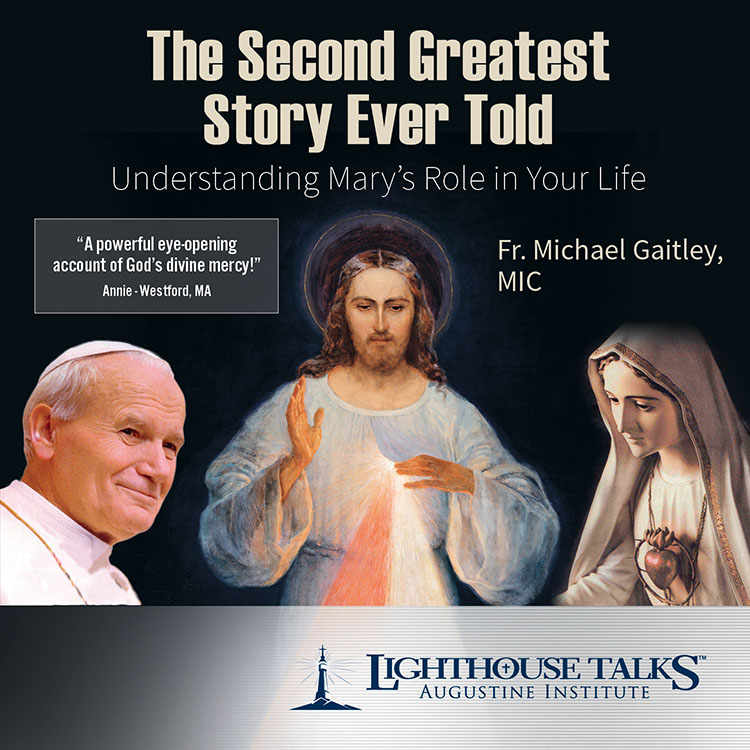 Fr. Michael Gaitley is a priest in the Congregation of Marian Fathers of the Immaculate Conception and the director of the Association of Marian Helpers, a spiritual benefit society with more than one million members. In this talk Fr. Gaitley describes the second greatest story ever told - a story that encompasses Divine Mercy, the life of Blessed Pope John Paul II, and the crucial role that Marian Consecration can play in your life.
CLICK HERE TO LISTEN TO AN ENGLISH PREVIEW
CLICK HERE TO ORDER MP3 OR CD IN ENGLISH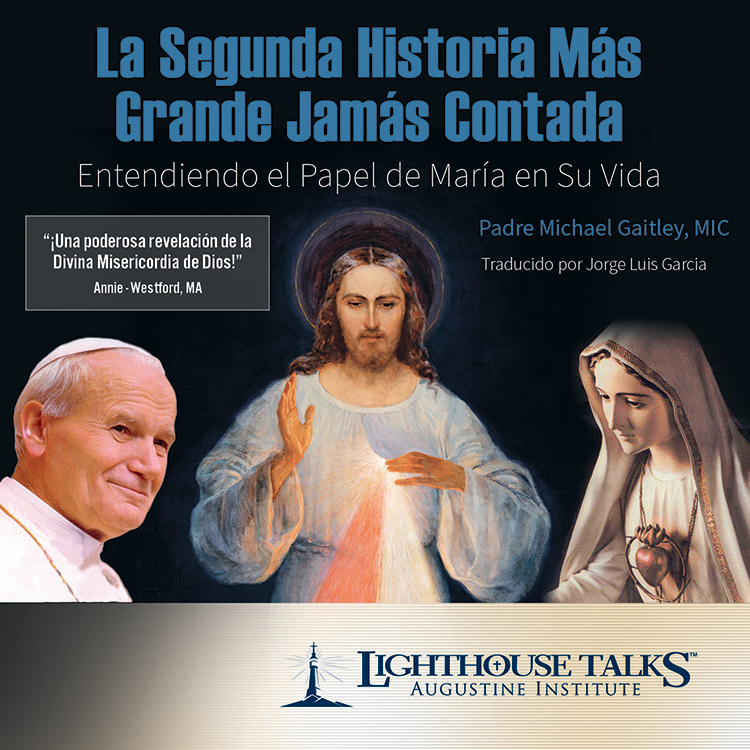 Padre Michael Gaitley, MIC, es un sacerdote de la Congregación de los Padres Marianos de la Inmaculada Concepción y es Director de la Asociación de Auxialres Marianos, una sociedad de beneficio espiritual con más de 1 millón de miembros. En esta charla, padre Gaitley describe "La Segunda Historia Más Grande Jamás Contada", una historia que abarca la Divina Misericordia, la vida del Beato Papa Juan Pablo II y el papel fundamental que puede desempeñar la Consagración Mariana en su vida.
CLICK HERE TO LISTEN TO A SPANISH PREVIEW
CLICK HERE TO ORDER CD OR MP3 IN SPANISH
Polish - Druga Najwspanialsza Historia
Ojciec Michael Gaitley, M.I.C., jest kaplanem Zgromadzenia Ksiezy Marianow Niepokalanego Poczecia Najswietszej Maryi Panny oraz dyrektorem Stowarzyszenia Pomocnikow Marianskich, ktore liczy ponad milion czionkow. W swoim przemowieniu pod tytulem "Druga Najwspanialsza Historia", ojciec Gaitley opowiada o Milosierdziu Bozym, zyciu Swietego Papieza Jan Pawel II, oraz o kluczowej roli, jaka moze odegrac Konsedracja Maryjna w naszym zyciu.
CLICK HERE to listen to a preview or to order talk in CD or MP3
The Miracle of Divine Mercy

by Kitty Cleveland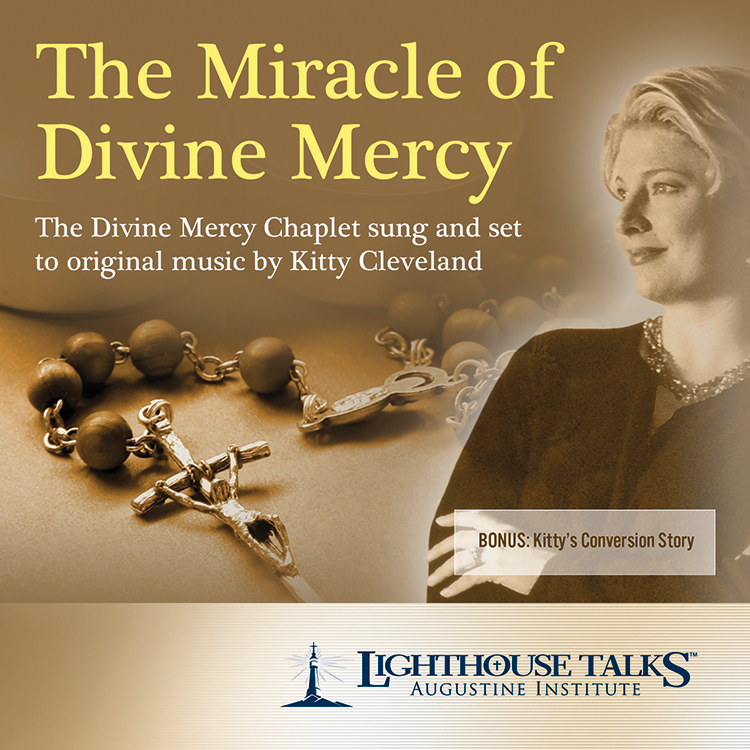 Kitty Cleveland is an award-winning singer, songwriter and actress who has been delighting audiences for over 25 years. She has appeared five times as a guest on EWTN's "Life on the Rock" series. This CD features the Divine Mercy Chaplet set to music written by Kitty and sung by her with a children's choir, as well as songs from a selection of her CDs. A bonus segment from Kitty's stirring testimony follows.
CLICK HERE TO LISTEN TO A PREVIEW
CLICK HERE TO ORDER MP3 OR CD
Books:
The Second Greatest Story Ever Told by Fr. Michael Gaitley
BRAND NEW! JUST RELEASED~
From the author of the bestselling book
33 Days to Morning Glory
comes a gripping account of the prophetic witness of St. John Paul II, and the profound connection between Marian Consecration and Divine Mercy.
The Second Greatest Story Ever Told
is more than a historical re-telling of the Great Mercy Pope. This book serves as an inspiration for all who desire to bear witness to the mercy of God, focused on Christ and formed by Mary. It calls us to respond to the urgent need for mercy in our time of unprecedented evil. Now is the time of mercy. Now is the time to make St. John Paul II's story your own.
Single copies $5 each
CLICK HERE
for parishes in bulk as low as $2 each
Contact Julie Musselman 727-709-8649 jkmuss@gmail.com
Divine Mercy in My Soul~ The Diary of St. Maria Faustina Kowalska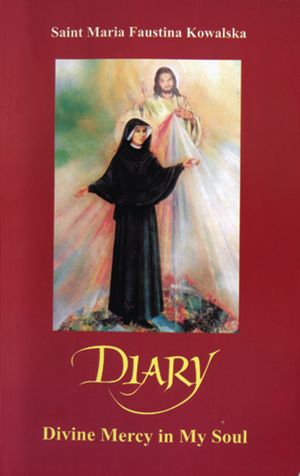 The Book That Sparked the Divine Mercy Movement
The Diary chronicles God's message given through St. Faustina to the world to turn to His mercy. In it, we are reminded to trust the Divine Mercy in Jesus and seek His forgiveness. And as Christ is merciful, so, too, are we instructed to be merciful to others. The message of Divine Mercy has become an integral part of Catholic faith, including the celebration of the Feast of Divine Mercy on the Sunday after Easter.
$13 each Contact me to order jkmuss@gmail.com 727-709-8649
Saint John Paul the Great-His Five Loves by Jason Evert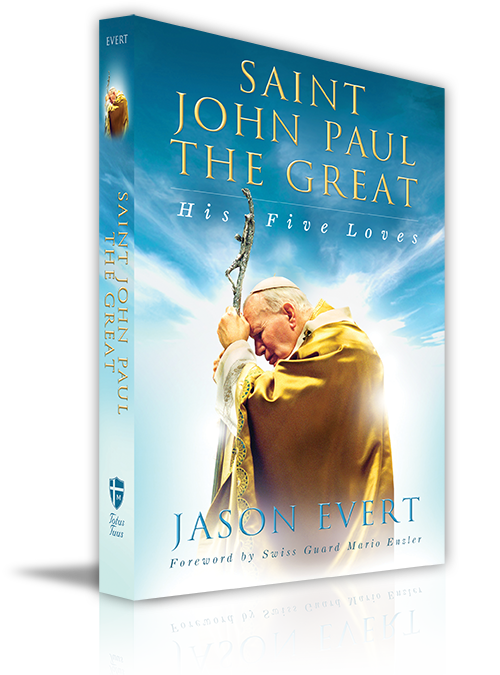 A French novelist once wrote, "Tell me what you love, and I will tell you who you are." Although there are countless ways to study Saint John Paul the Great, the most direct route is by entering the man's heart.
Discover the five greatest loves of Saint John Paul II, through remarkable unpublished stories about him from bishops, priests who organized his papal pilgrimages, his students in Poland, Swiss Guards, and others. Mining through a mountain of papal resources, Jason Evert has uncovered the gems and now presents the Church a treasure chest brimming with the jewels of the saint's life. Rekindle your own faith by learning what (and who) captivated the heart of this great saint.

This brand new biography features never-before published stories of our beloved Pope John Paul II!
Priced at $9.99 single copies, 10 or more $5.00 each
CLICK HERE TO ORDER BOOK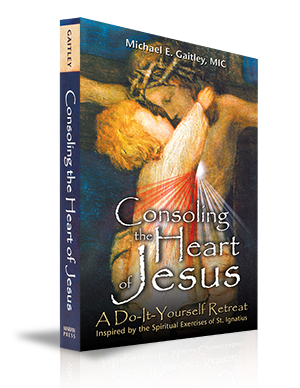 CONSOLING THE HEART OF JESUS - BOOK
Fr. Michael Gaitley, MIC, has given us a very special gift in his thoughtful and prayerful "Do-It-Yourself Retreat." He brings together several spiritual traditions and blends them in the pattern of the Spiritual Exercises of St. Ignatius. We will find inspiration in the quotations from the saints that he gathers carefully and in his deep, but humble, understanding of the principles of holiness that they proclaim. This is a good way for a soul to begin the journey in responding to the call to embrace the Divine Mercy of the Lord. CLICK HERE to get your copy of the book
Pages: 431
Book Dimensions: 5.56" x 8.44"
Parishes, we have bulk prices by the case of 25,
contact me to order
jkmuss@gmail.com 727-709-8649
Booklets & Pamphlets:
All booklets and pamphlets must be ordered through me:
jkmuss@gmail.com or 727-709-8649
The Divine Mercy Image Explained BOOKLET
From experts to beginners, this booklet by author Fr. Michael Gaitley, MIC, is an engaging read that reveals hidden gems and highlights inspiring truths about the Divine Mercy Image. It covers the great grace and key elements of the Image with remarkable depth and clarity. Also includes instructions on how to enthrone the image in your home, an enthronement prayer, and two bonus appendices. 67 pages
LH_MIC_DMIX The Divine Mercy IMAGE Explained-(5 BOOKLETS per unit) $7.95
Divine Mercy Explained Booklet
This booklet from bestselling author Fr. Michael Gaitley, MIC (
Consoling the Heart of Jesus
and
33 Days to Morning Glory
), gives you a brief and easy-to-understand introduction to the Divine Mercy message and devotion. You'll read about the history and context of Divine Mercy, the essential elements of the devotion, and how you can live the message. Includes the full prayers of the Divine Mercy Novena and St. Faustina's Litany to Divine Mercy, as well as two bonus appendices: valuable Divine Mercy prayers and Divine Mercy wisdom from Popes John Paul II and Benedict XVI. 67 pages
LH_MIC_01 MIC-Divine Mercy Explained-Fr. Gaitley- pack of 5~ $7.95
Divine Mercy Novena and Chaplet Pamphlet
One and a half million copies of this popular 10-panel pamphlet are distributed annually throughout the world. Based on a special request from a Marian Helper, this new version includes the addition of the Prayer of The Divine Mercy, fully complimenting The Divine Mercy Novena given to Saint Faustina by Jesus, as well as illustrated instructions on how to recite the Chaplet of Divine Mercy. 3.5 x 7 inches
LH_MIC_DMNP Divine Mercy Novena & Chaplet Pamphlet-(50 per pk)
$7.90
The Chaplet of the Divine Mercy Pamphlet
LH_MIC_CDME MIC-The Chaplet of the Divine Mercy(ENGLISH)-pack of 50-MIC3

$13.50
Also available in Spanish
This simple pamphlet is packed with information about the history and power of the Chaplet of Divine Mercy, as well as a step-by-step guide to reciting the chaplet. (Available only in packets of 50)
Divine Mercy Images
Images measures 10" x 18" and are on Canvas. Available with Black or Gold Frame or with no frame (i.e. gallery wrapped
,
pictured below.)
CLICK HERE
to order
Parishes contact me to order jkmuss@gmail.com 727-709-8649
Divine Mercy Coffee Mug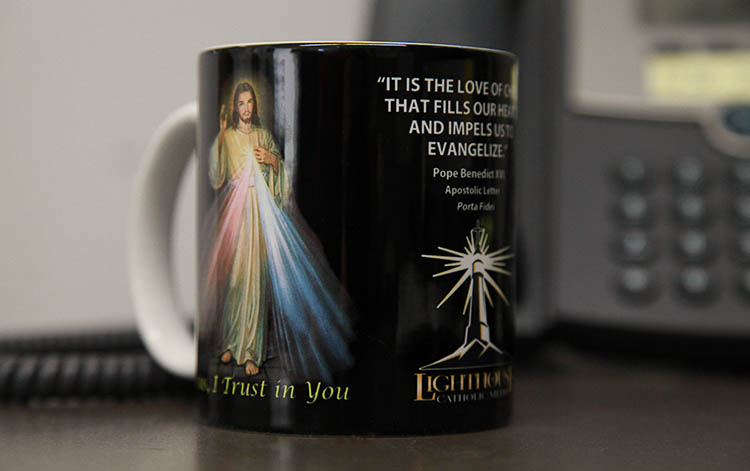 - for your favorite beverage and faith-filled mornings. Featuring pictures of the Divine Mercy, the Blessed Mother in prayer, and an inspiring quote Pope Benedict "It is the Love of Christ that fills our hearts and impels us to evangellize."
LH_MUG_1 Custom Mug-Divine Mercy, Pope, Madonna in Prayer-(MUG)
$6.75
CLICK HERE TO ORDER
Divine Mercy Resource Display
Divine Mercy Resource Display includes-
(4) Consoling Heart of Jesus Prayer Companions, (6) Divine Mercy Image Explained,
(6) Way of the Cross,
(6) Divine Mercy Explained,
PRAYER CARDS-25 each of Large & Small Divine Mercy Prayer Cards,
CDs-(10 of each titles)-Giving God the Love We Should, The Second Greatest Story Ever Told, The Saving Power of Divine Mercy, & No Turning Back,
(50)-8x10 Divine Mercy Image,
BOOKS-(2) Diary of St. Faustina, (4) 33 Days to Morning Glory,
(15) Divine Mercy Novena & Chaplet brochures,
(10) Vietnam Wooden Rosary,
(100) Miraculous Medal,
(50) Prolife Bookmark,
(1) Rosary Sign,
(1) China Rosary Hook,
(1) Original Display,
(2) Brochure Holder,
(1) Medal Holder,
(1) Divine Mercy Header Sign
Just $300. Contact me to order
jkmuss@gmail.com 727-709-8649